Bethesda Youth Group (BYG)
Grades 6-12
Bethesda Youth Group (BYG) includes all middle and high school youth. BYG meets in the Fellowship Hall from 5:00 pm to 7:00 pm each Sunday.  We begin with recreation, then move to dinner and our weekly scheduled events/studies.  During studies, the group may be divided in order to deliver age appropriate lessons for all.  When engaged in activities and dinner, the group meets as a whole.  This format helps encourage fellowship and growth in an appropriate manner.
A Vision for Young People, Presbyterian Church (USA)
In the midst of a beautiful and broken world, we have a vision for ministry with young people  that unites youth in Christ with all other generations and proclaims the love of God without end. This vision gives us hope for a Church that:
Is authentic, made up of communities of faith that live what they proclaim.
Participates in, and pays witness to, the lively, joyful reality of the grace of God for the whole world.
Helps young people to understand what it means to be saved by the grace of our Lord Jesus Christ, so that they will, as God does, view all people with love and possibility.
Expresses God's boundless love by embracing young people as they are, where they are, and where they could be, inspiring them to share their ideas, dreams and unique gifts with the world and the church.
Acknowledges and celebrates youth as the keepers of God's world, capable of serving as agents of healing, friends to the friendless, and leaders along the path of Jesus.
Encourages young people to live and lead with humility, but also with confidence and joy.
Accepts that it may be changed, even re-made, through the power of the Spirit and by the youth's energy, freshness and vitality.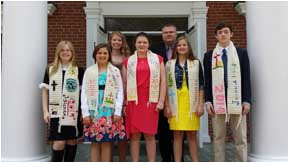 Our middle school and high school youth participate in several mission opportunities throughout the year, such as assisting our members and neighbors with yard work, assisting with Bethesda's Food Pantry, the Souper Bowl of Caring, Operation Christmas Child, Habitat for Humanity, and more. In addition, this group raises funds in order to travel and assist with an international mission project every three years.
We like to share good food and fellowship! So we need the help of volunteers to provide meals and supervision. Because of numbers, we ask that members with a child in the youth group provide a meal on three different dates throughout the year.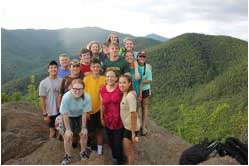 In addition to activities such as Christian rock concerts, ballgames, and amusements parks, our youth have an opportunity to participate in several fantastic retreats! Our High School youth attend the Montreat Youth Conference, and our Middle School youth attend the Massanetta Middle School Conference.
Contact us to get involved!
Youth Devotional: "A Minute with Henster"
March 24, 2021
It is that time again, A Minute with Henster. Another week has flown by and the pollen season has started, the sky will be yellow now.
This week and next week we will be looking at 1 Kings and 2 Kings. Originally, these two books were one but they are split into two different books. 1:1 When King David was old and well advanced in years, he could not keep warm even when they put covers on him. We start out seeing that David was old. Now, he could not keep warm with a lot of covers, so his servants go and find a young beautiful girl to take care of him and her name was Abishag. Now, remember David had a lot of children...
Next week we will take up 2 Kings.
Keep Your Light Shining!!
Henster