The History of Bethesda Presbyterian Church, Aberdeen NC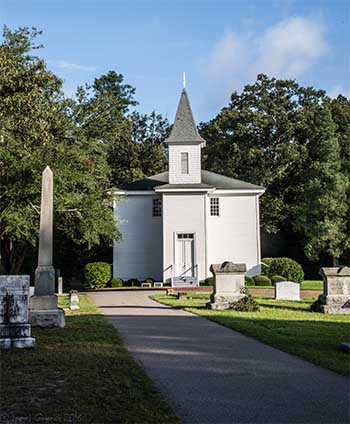 Bethesda means "House of Mercy," "House of Grace," or "House of Loving Kindness."
We first met in homes or under a brush arbor to hear the word of God.  We were then known as the "Church at the Head of Rockfish Creek."  We built a log church around 1788.  We built and maintained the first school in this area, on church grounds, called the Solemn Grove Academy, in 1801.  
As we multiplied in number a more fitting structure was needed in which to worship so we built again in 1832, near the log structure.  By the beginning of the Civil War we built our third structure, a larger edifice which still stands to this day, which we call Old Bethesda.  We continue to meet there once a year for our annual Homecoming Service on the last Sunday in September.
Bethesda was the only church serving the community for the first 100 years of its existence.  By 1906, Aberdeen was such a bustling community that we decided to build a chapel in town closer to the source of electric power.  The chapel, completed in 1907, became our principal house of worship in 1910.  We made several additions to the church in town, but eventually outgrew this structure too.
​
We made the decision to relocate to US Highway 1 to better serve the community and built our current facility in 1972.  A beautiful edifice which overlooks a pond and is a focal point of calm and peace amidst the bustle of traffic.
Bethesda Cemetery has been in continual use since the early 1700's and is currently under the purview of The Bethesda Cemetery Association, Inc. For more information on the cemetery, existing plots, or to purchase a plot contact the association at 910-585-1939.
Old Bethesda Church & Cemetery
1020 Bethesda Rd
Aberdeen, NC 28315