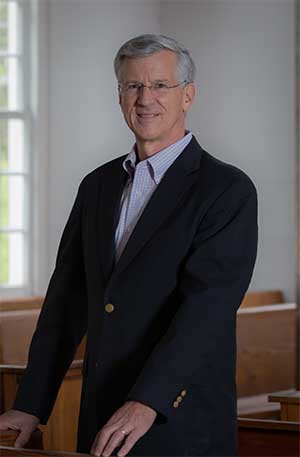 David is a "man on a mission" and a "man on the move!"  He majored in Religion at Wake Forest University, where he met his wife, Sue, and then continued his studies at Princeton Theological Seminary. Shortly after they married in 1980, they were called to serve as Volunteers in Mission and taught at the Presbyterian Theological Seminary in Seoul, Korea. When they returned to Princeton, David completed his M.Div. and Th.M. degrees, and then they returned to Seoul, Korea, as Mission Co-workers serving in the Third World Church Leadership Center at the Presbyterian Seminary.
After returning from Korea, David worked at Friendship Force in Atlanta, before receiving his first pastoral call to Troy Presbyterian Church in Montgomery County, N.C.. Six years later God called David and Sue, along with their three daughters: Rebekah, Rachel and Mary, ages 10, 7 and 4, to work as Mission Specialists in Lahore, Pakistan, supporting the Presbyterian Church of Pakistan, Gujranwala Theological Seminary, Forman Christian College and other Christian schools and hostels in that country.
During their term in Pakistan, Sue felt called to seek ordination. When they returned to the United States Sue took a call in Venice, FL. During those years, David worked as the Interim Pastor at Westminster Presbyterian Church in Bradenton, FL, and then as Interim Executive Presbyter for Peace River Presbytery.  
Sue and David felt called to work together again. Bethesda offered a call to both David and Sue to serve as co-pastors at Bethesda from 2000-2007.  David finished his Doctor of Ministry degree at Columbia Theological Seminary during those years.
They left Bethesda in 2007 to serve as Regional Liaisons for South Asia. Their youngest daughter, Mary, was still in high school and joined her parents, graduating from high school at the American Embassy School in New Delhi, India. After returning from India David served as the Asia Coordinator for the Presbyterian Church (USA), based in Louisville, KY.  Sue took a call to serve as Pastor of St. Pauls Presbyterian Church in St. Pauls, N.C., David followed and served three churches in that area: Parkton, Lumber Bridge and Antioch Presbyterian Churches.
 David and Sue returned to Bethesda, in April 2016 to serve again as our pastors. David is now the solo pastor at Bethesda, seeking to strengthen Bethesda's historic reputation as a "House of Mercy" and place of welcome for all people, as the next generation of Christians embrace and expand the good news of Jesus in this unique moment in history!